I am excited to be able to help people get by with their ebike journey. Here at ebikewizard.com, I share my expertise and over a decade of experience riding, testing, and troubleshooting ebikes of all kinds.
Are Chinese Electric Bikes Better Than American E-Bikes? The answer is it depends. Both countries produce quality and not-so-quality E-bikes.
Electric bikes have become all the rage in the last year- thanks to the economic downfall followed by a global pandemic. Even if you haven't already jumped on the bandwagon, you might have seen an increase in E-bikes in your neighborhood or city. They are convenient, mostly pocket-friendly, and good for the environment. So, why wouldn't anyone invest in this now popular mode of transport?
What are Electric Bikes?
Electronic bikes or simply E-bikes are rechargeable bicycles that are powered by batteries to make peddling a bit easier for the riders. The integrated electric motors have made riding bicycles fun, taking out the element of strenuous peddling. Although these bikes look similar to the regular ones, their electrical drive system sets them apart.
Why are they becoming so popular?
Contrary to popular belief, these bikes have been around for decades. Mostly driven by the elderly, the first bike of this kind was invented in the 1880s. They have been extremely popular in China and European countries. However, these bikes have peddled into America now.
Although not as popular as regular bikes in the USA, the NDP reported a whopping 72% increase in sales for electric bikes in the states between 2017 and 2018. According to their estimates, their global sale is expected to reach 24 billion by 2025. However, given the many benefits and types of E-bikes, we're not surprised by these numbers.
Benefits of Buying an E-bike
With traffic increasing in cities, driving a car has become more of a hassle than a privilege. We can't entirely hope these congestion issues will resolve because the urban population is expected to reach 68% by 2050. So, E-bikes have become our friends in need who show up and help us reach our destination on time.
Here are some other benefits of investing in an E-bike:
You will never have to pay for fuel or worry about parking spaces.
You can easily ride an E-bike, no matter your age or stamina.
Most of these bikes have a speed of mph.
They are pocket and environment-friendly.
American E-Bikes
Believe it or not, the first American E-bike was made in 1897 by Hosea W. Libbey of Boston. However, we will be comparing the latest and the most popular American E-bikes with those made in China. When buying an E-bike, you should always evaluate the following features:
Motor
Battery Range
Brake Type
Weight
Value for Money
Comfort
Aesthetics
These features determine a bike's overall performance and help understand whether a particular bike will fit your daily needs and adventures. For this reason, we've taken one of the most popular American E-bike to compare with its Chinese alternative.
We did a survey of American E-bike brands to find some of the most popular brands and models and RadMission by RadPower Bikes was one of the most popular mid-entry E-Bikes. Let's take a look at some of its specifications:
| | |
| --- | --- |
| Motor |  500W |
| Battery Range | 25–45+ mi (40–72+ km) |
| Brake Type | Front & Rear Disc Brake |
| Weight | Under 50lbs (30% lighter than most other E-Bikes |
The RadMission is a slick, stylish single-speed electric metro bike for city riders craving more excitement and utility than your average fixie — and at a price of $999, it's available at our lowest price point ever. Don't let its simplicity fool you. With a 500W high-torque motor and up to 45+ miles battery range, it's ready to handle any mission.
What most people have come to love about the RadMission Electric Bike is that it is extremely comfortable. Compared to other E-bikes of this type, this one is relatively pocket-friendly and provides great value for money. Its seat is soft and comfortable, and the bike is waterproof to support all your adventures and biking endeavors.
From changing its color to increasing its speed, there's nothing you can't modify in this bike. However, because its tires are sleek to match the overall aesthetics of the bike, it might be a little unstable on uneven terrains. So, who is this bike perfect for? If you're not too much into adventures and want an E-bike essentially to go to work or grocery shopping, this might be perfect for you.
Chinese E-Bikes
Almost 300 million E-bikes can be found on the streets in China, and this number is expected to increase given China's growing population. However, we believe in quality over quantity. Here is a popular mid-level Chinese E-bike to compare to its American alternative.
A Chinese E-bike that's been gaining a lot of attention recently is the METAKOO Cybertrack 300 Electric Bike. It is not as sleek as the American ANCHEER e-bike. However, the size of its tires and its stability to support off-roading has caught everyone's eye. Let's take a look at its specs: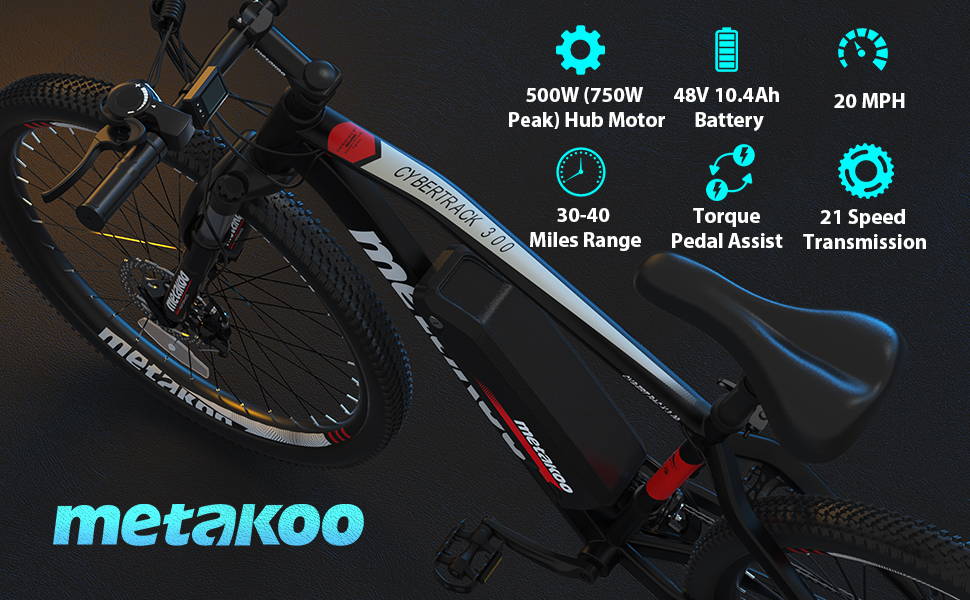 This bike has a suspension in the front to support all the jumps and bumps you may encounter on your way. This bike is also relatively pocket-friendly and gives great value for money. However, when it comes to the design and aesthetics of the bike, its American competitor would probably win. Although not as sleek as the American E-bike, this Chinese E-bike has a wheel size of 26 inches, making it a perfect companion for all your off-road adventures. In addition to this, the METAKOO Cybertrack 300 can carry a whopping 300 lbs.
This bike may be complicated for beginners with 21 different speeds, adding more gears to the bike than required. The cadence-sensor might make it more difficult to ride this bike compared to those that come with a torque sensor. Overall, this bike is great for its price. However, if you're a beginner, going for a simpler version would probably be best.
Final Verdict
The American E-bike and the Chinese E-bike are both budget-friendly options. However, their use and performance are dependent on your purpose of purchase. If you want an everyday bike to help ease your commute, then perhaps the RadMission Electric Bike would be your best bet.
In contrast, if you're an adventurous and experienced biker, the Chinese METAKOO Electric Bike is also a good option. It's best always to do some research and pick a brand irrespective of its country of origin. In the end, you should consider electric bikes that best fit your budget and needs. We hope this review has helped you make an informed decision. Which E-bike brand is your favorite? Let us know in the comments section.
I am excited to be able to help people get by with their ebike journey. Here at ebikewizard.com, I share my expertise and over a decade of experience riding, testing, and troubleshooting ebikes of all kinds.