When it comes time to finding the right e-bike battery charger it can be a daunting task. Sorting through all the information and ratings can be a pain. It is also difficult to know if one is the right fit for your specific e-bike. But first, there are some basic considerations you need to have in mind before choosing from the best electric bike battery chargers.
Voltage: There are two voltage numbers labeled on every charger—one for input, one for output. The input voltage is the power supply you plug the charger into. The output voltage is the rating that should match the voltage of the battery on your e-bike.
Current: If you want a speedy charge, look for a charger that has a high output current. If you don't mind taking some time for the bike to charge, then you can look for chargers with lower output currents. This is denoted by the amps of the model, with the lower number being a lower output.
Connector: Make sure the charger connector matches the battery port. If that is not available, adapters are made to bridge the connection gap. Either way, your battery will not charge if you do not have a way to connect it to the charger.
With all of that said, here are some of the best e-bike battery chargers:
The Cycle Satiator 36, 48, and 52V charger or the 72 V one is by far the most versatile of e-bike chargers on the market and a leader in the industry. What makes it so? It is programmable, which means that you can program the output voltage to suit your e-bike. It also features a graphic display, so you can easily read real-time charging information.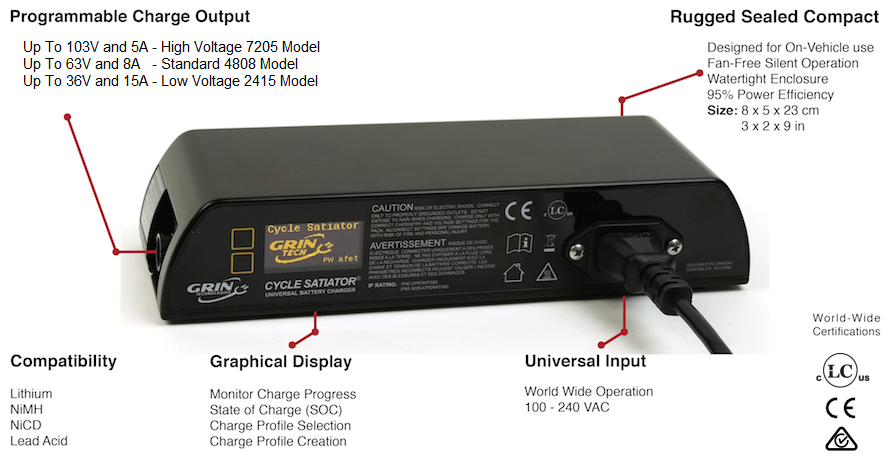 Another great facet of the Cycle Satiator is its compatibility. This e-bike charger is compatible with lithium, NiMH, NiCD, and lead acid batteries. Another feature is that the Cycle Satiator is compact and designed to be stored on your e-bike. So, you can take this charger with you, wherever you go.
The YALANCHA Cycles charger lineup is another popular e-bike charger. If you have something different than a 48V battery, worry not! Luna Cycles has batteries for all types of voltage, so be sure to shop around to find one that fits your e-bike.
With a voltage display, it monitors your voltage as it charges, along with an automatic shutdown when the pack is full. It can also charge faster or slower, depending on your needs and wants with an adjustable amp dial.
This Charger is compatible with 18650-cell and lithium-ion batteries. The XT60 connector is the default connector, but it can be changed and adapted to fit your bike. It is smaller and lighter than other batteries, making it an easy tag-along for your rides.
This is by far one of the fastest chargers on the list with an output voltage of eight amps. The YEWY UY360 can charge your e-bike fast, and has three charging stages: constant current, constant voltage, and trickle. The trickle mode works to top off the battery before you use it, along with increasing the performance and preventing over-charge.
The YEWY UY360 battery charger works with lithium batteries and comes with a spare fuse. It is light and compact for easy storage, and can be charged almost anywhere. It also features a durable housing of aluminum to help keep it safe and protected so it can live to charge your e-bike another day.
The SafPow 42V 2A Charger is designed for 42V lithium batteries. It has a LED display so that you can easily read the battery's fuel status. There are four charging stages and is lightweight for easy travel.
Perhaps the biggest attraction to HoneyCare is that it is one of the safest options on the list. It has the CE Tuvus safety seal of approval, along with protective functions in case of a short-circuit, reverse polarity, and overheating.
If you are wanting a more budget-friendly option, then the AmPowerSure Ebike Charger is the choice for you. This charger is compatible with lead acid batteries and has a three-pin XLR connector. The Wingsmoto Sealed is a 2.5-amp output, which can make a difference in time if you are used to smaller output chargers.
It is fit for a 48V battery and has an integrated cooling fan to prevent the charger from overheating. It is small and light, making a great little charger to take with you on your adventures.
Conclusion
Whatever your battery charging needs, there are plenty of options available. There are a variety of e-bike chargers out there on the market that fit your budget as well. Of course, remember to look into the voltage, current, and connector (or an appropriate adapter) before ordering your e-bike charger.