I am excited to be able to help people get by with their ebike journey. Here at ebikewizard.com, I share my expertise and over a decade of experience riding, testing, and troubleshooting ebikes of all kinds.
Since electric bikes emerged onto the scene some 20 years ago, they've only grown in popularity as people look to abandon their cars for greener and healthier alternatives to commuting. Electric bikes are the hottest topic in bicycling and transit right now. From how we buy them to the technology and features, to the legislation and infrastructure of the roads and trails where they are ridden, the electric bike scene is rapidly changing. electric bikes play a vital role in transportation and entertainment by reducing our dependency on automobiles and allowing more people to use bicycles. We have assembled Best Electric Bikes For 2022.
How did we choose the best electric bikes in a sea of products that is rapidly growing? Depending on the bike and category, the answer to this question varies as follows:
Fat Tire Electric Bike
Because of their heftier designs, fat-tired electric bikes make for a great off-road option. Fat tire electric bikes can even outperform some mountain electric bikes in unchartered surfaces. They also can work on sand, grass, or snow. They are a great choice for anyone looking to have many options.
Best Fat-tire Electric Bike for 2022: Aventon Aventure
Aventon, situated in Los Angeles, is a new business that began in the fixed-gear riding and tracks racing scene a few years ago before focusing solely on producing and selling electric bikes. The all-new Aventon Aventure electric fat bike, one of our favorite electric bikes debuted this year, is definitely something to write home about.
It comes with all of the standard features you'd expect from a sub-$2,000 electric fat bike: The Aventure has a 750W motor, a suspension fork, and a good component package, but it's the little elements that set it unique. Full-color LC display, metal fenders, hydraulic disk brakes, and a slightly larger-than-average battery are just a few of the features. Or the fact that this is one of the few electric bikes in this price range with a completely integrated battery that merges in flawlessly with the frame.
Folding Electric Bikes
Folding electric bikes are perfect for urban settings. Folding electric bikes offer a convent way to get around the city. The benefit of a folding electric bike vs a normal electric bike is the weight and the ability to fold up and throw in a closet, back seat, or even onto public transpiration.
It's tough to compete with the beautiful yet functional design of this futuristic-looking foldable ebike. This 14″ foldable electric bike is designed to go across the city, through trails, and around the neighborhood with ease. With the hybrid cycling mode, you may choose between pedal-assist and throttle control. Avoid traffic bottlenecks by getting to your location quickly. With a UL2271 certified 36V/10Ah battery and a 250W Brushless Motor, the bike can accelerate to 15.5mph in seconds and go up to 27.9 miles with pedal assist. Whether it's day or night, the Dual Disc Braking System, High-Beam LED Headlight, and Illuminated Warning Tail Light assure safe journeys. Riders can simply bring the electric bike anywhere thanks to its foldable design, Aluminum Alloy Frame, and lightweight: capable of withstanding a load capacity of up to 264 lbs.
Electric Beach Cruisers
Electric Beach Cruisers are very cool-looking. They tend to be a little heavier and can go on and off sidewalks. They originally were designed back in the 1930s but have recently gained popularity back in the '90s around Venice Beach in California. The incentive of the Beach Cruisers has been that you look cool. The downfall of the beach cruisers has been that they are hard to ride and even harder to go up hills. Now with the evolution of electric bikes, those downfalls are no longer a concern.
Best Electric Bike Beach Cruiser for 2022: Heybike Cityscape Cruiser
This cruiser is able to keep its price reasonable while yet providing plenty of valuable extra features by providing ample range without going overboard. With its Cityscape cruiser, Heybike strikes the perfect balance between price and battery capacity. The Cityscape's 350-Wh battery can take you up to 40 miles in pedal-assist mode or 25 miles when powered totally by the battery. This speed range is enough for most beach trips and work commutes. It has an incredible pedal-assist speed of 19 miles per hour and a 7-shift drive train, despite its low cost. Thick tires for road or mild off-road use, as well as a front fork suspension, smooth down uneven terrain, while handlebar-mounted controls let you switch between the three pedal-assist modes or activate the throttle.
Electric Mountain Bikes
Electric Mountain Bikes are the most common bike that one thinks of when thinking of a universal bike. That is the same when it comes to electric bikes. Electric Mountain Bikes are a great choice for anyone that is looking for an electric bike that can do everything.
The best Electric Mountain Bike for 2022: Specialized S-Works Gen 3 Turbo Levo
The Specialized S-Works Gen 3 Turbo Levo is the best electric mountain bike for 2022. This full-suspension electric mountain bike from a well-known brand features every cutting-edge component needed for outstanding off-road performance. Branded e-MTBs are designed to provide high-performance components that give riders the greatest tools for the job. Starting at $4000, you can have a fantastic entry-level e-MTB.
The Specialized 2022 models are currently available, and if you're a fan of electric mountain bikes, you'll want to make sure you're getting the best e-MTB for your money. Thanks to its powerful 700-Wh battery, which provides 40% greater run time than typical e-mountain bikes' 500-Wh batteries. Contrary to popular belief, the larger battery does not add weight or bulk. The Turbo Levo's battery blends in so well with the down tube that it looks like any other non-electric mountain bike.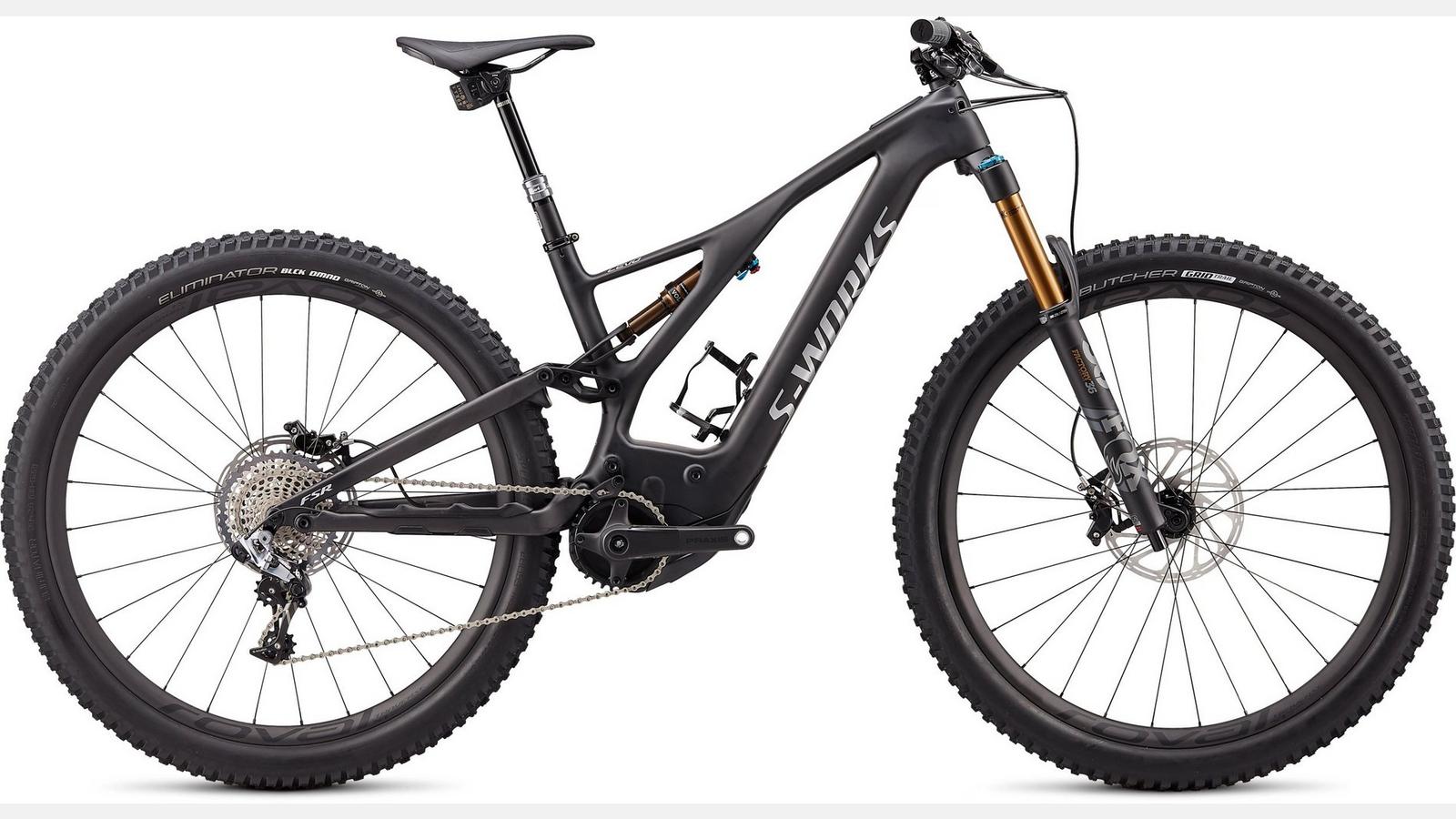 I am excited to be able to help people get by with their ebike journey. Here at ebikewizard.com, I share my expertise and over a decade of experience riding, testing, and troubleshooting ebikes of all kinds.